SOLD: AYRES 47IN BAILEY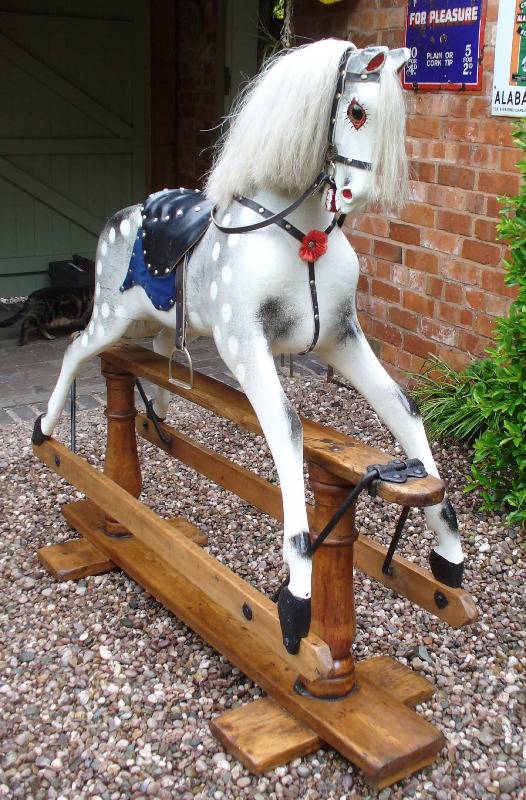 NOW SOLD
Rocking horse believed to be by FH Ayres (3 experts concur), plain carved,possibly 1900-1920. £995 ono

For sale by a local authority nursery school, the present owner for over 40 years, in order to raise much-needed funds.
Bailey is a large, elegantly proportioned horse in good useable condition for excellent play value. Height on stand to top of his ears 47 inches approximately. Both horse and stand appear in very sound order. Quite a handsome, traditional dapple grey fellow with long real hair mane and tail. Length hoof to hoof 47 inches approx. Saddlery is the traditionally made wooden underside, padded, with nailed on,therefore fixed, leather tack and brass stirrups all in fine condition, about 15 inches wide.

Known provenance since 1974 when he was at the nursery school and refurbished, probably in 1975 to the current standard and little used in recent years. We have a photo and accessories price-list from then which can be seen if required.

His current finish makes him very suitable for everyday use by young riders and perhaps in a few years professional refurbishment would enhance him to more than double his present value.

Ideally we would to see him go to a loving family as a practical future heirloom. More pictures are available on request. The pine and turned beech stand which has been recently refurbished is sympathetically wax polished (not varnished) and has a lovely golden patina showing evidence of having been much loved. It rocks nicely with little side movement. The stand is 54 inches long, 17 inches wide.
Clearly this is a very good price for an FH Ayres horse of probably a hundred years old in order to reflect his heritage and shows good potential for investment once he is retired from active riding service.
Currently stabled (yes,really) in Staffordshire,it may be possible to deliver at cost (van hire + fuel), depending upon where he is to be rehomed.
Please contact the headteacher, Sara Bailey, on 01785 824306 , 07948 304850, 07804 351007 or email pbailey306@btinternet.com