Welcome To Rocking Horse Heaven rare rocking horses for sale and wanted exchanges considered
Rocking Horse to sell or want to buy a Rocking Horse we can help. Tel 01485 544596 or text 07766025204
Toy Wooden Rocking Horses or Collectible Antique Rocking Horses for sale to suit all budgets
Rockinghorseheaven: Rocking Horses for Sale & Wanted –
Large rocking horse or small rocking horse, antique or vintage. All kinds of toy wooden rocking horses - Antique Ayres Rocking Horses Swivel Head Ayres Paul Leach Rocking Horses Stevenson Bros Rocking Horses Legends Rocking Horses Lines Rocking Horse Haddon Rocking Horses Collinson Rocking Horses Antique Bow Rocking Horses Rare Rocking Horse Miniature Rocking Horses (Ideal to Display Dolls & Teddies & Even Sasha Dolls Wooden Toy Horses –
Rocking Horses can also be advertised on this site, no commission. For more information call 01485 544596 or email maggi5@mac.com.
Comments received from happy buyers: my daughter cried tears of joy at her rocking horse presented to her on her wedding day ..... my little cowboy loves his new restored horse ..... as grandparents we were proud to give a rocking horse as a christening present ..... I cannot express the excitement of another rare horse arriving .... its so stunning, so very pleased thank you for your help .... such a pleasant transaction of trust .... matched description perfectly ....the rocking horse has been sold thanks to your website!
NEED WE SAY MORE .... BUY WITH CONFIDENCE FROM ROCKING HORSE HEAVEN & YES MOST ARE CHILD FRIENDLY AND WAITING TO BE RIDDEN!
NB: on some of the horses part exchange can be considered please ask it might help you upgrade your rocking horse.
Couriers UK are listed on the side column but if you wish to purchase from overseas for shipping abroad, The British Shop Shippers & Chudleighs International do a wrap and pack and transit insurance service.

To view current rocking horses for sale SCROLL & CLICK ON PICS which will take you to the page for sale or use the drop down menu, the owners contact details are on their pages, if any problems please email or call Maggi 01485 544596 and I will pass on details etc.
IF VIEWING ON YOUR PHONE JUST KEEP SCROLLING AND ON IPAD OR TABLET AGAIN KEEP SCROLLING PHOTOS WHEN CLICKED WILL LINK TO THE HORSES FOR SALE PAGE DO SCROLL TO THE BOTTOM SO YOU DONT MISS ANY!!!
ROCKING HORSES CURRENTLY FOR SALE:
---
THE TLC STABLE NEEDING RESTORATION:
Vintage Rocking Horse 44in £700 ono
---
FH AYRES ANTIQUE ROCKING HORSES STABLE:
Ayres Swivel Head 42in £8500 REDUCED RARE
Ayres Benjamin restored 37in £1500
Ayres Jingles 42in FULLY RESTORED Ex Carved £2250
Ayres Lady Luna Early D MASSIVE AT 60in £4650 with new saddle & tack
Ayres MontyAyres Nursery Rocker £6250
Ayres Charlie Original Paintwork 46in £1200 REDUCED
Ayres Small Nursery Rocker £4500 ono
---
LINES ANTIQUE ROCKING HORSES STABLE:
Triang (Lines) 1930s 37in £1150
Lines Tom Cobley Restoration 36in £1950
Lines 1925 Bow Rocker £3500 ono
Lines Sportiboy Bay Colour "Joey Warhorse" £1650
George Lines Georgian Bow C1870 £4850
Early Bow Rocker (Lines or Carousel) £1200
Lines with Harrods on Stand £2150
---
PAUL LEACH ANTIQUE ROCKING HORSES STABLE: RARE & COLLECTIBLE
Paul Leach Bow Rocking Horse Rare £6995
---
HADDON: A SELECTION OF LARGE AND PONY STYLES FROM EACH ENDS OF THE COUNTRY SO PICK ONE NEAR YOU! Very safe and Child Friendly
Haddon JED large 50in deluxe £1300
Haddon Rare Black Beauty on Red Bow £800 ono
Haddon Pepper very old paint £900 ono
---
LEGENDS ROCKING HORSES QUALITY CARVED WITH A REALISTIC LOOK
Legends Dapple with removable saddle 42in £1950 ono
Legends Cherry Zeb 45.5in £2950ono
---
STEVENSON BROS STABLE - CONTEMPORARY ROCKING HORSES: Very Safe & Child Friendly
Stevenson Bow with End Seats Rare & Immaculate Condition £3500
Stevenson Wood with subtle dapple 48in Karen £2100ono
Stevenson Early Dapple Nursery Size 38in £1600
---
MISC SOMETHING DIFFERENT - ALWAYS WORTH A LOOK:
BRONKO (SWAN) OSMA - 40in fully restored £2500
ANTIQUE BOW ROCKING HORSE - John & Dorothy Woods Restore £5000 (appeared on TV series)
GERMAN PLUSH HORSE BOW ROCKER & WHEELED PLATFORM excellent condition £950
TOM NEWSTEAD ARTIST AND SCULPTOR Art Rocking Horse £750
BACKHOUSE hand crafted 49in large rocking horse £1000 REDUCED SUITABLE TO ADULT
TREVOR WIFFEN BOW ROCKER - Shotgun Paddy £2000 REDUCED
MINIATURE Rocking Horse Kamila £450 Ideal to display Sasha Dolls & Bears etc
MARGARET SPENCER Rocking Horse £1300
MERRYLEGS Large Rocking Horse 50in £700 REDUCED
SILVER CROSS Rare Limited Edition Rocking Horse £1600 ONO Very Safe & Child Friendly
Choice of two hand carved rocking horses: £1950 each
1906 BROWNIEAntique Skin Horse on Bow Rockers
Large Mahogany Horse Ex Condition £850 ono
Mahogany Rocking Horse Joe £2200
Newly Carved horse Rosie POA, Walnut 48in £1999
---
COLLINSON STABLE: Child Friendly & Spotty
Collinson 42in Eric original paint, TLC lovely example £360
Collinson 52in Original Paint Rare Early Carving £2100
36in 'Dapple Grey' £450 original condition
44in tall £600 all original paintwork
The stock changes so if you are looking for something please call 01485 544596 often horses are available and not on the web site.
or email maggi5@mac.com but all the listings above are with their owners on their owners own page and the prices are mostly negotiable so please call.
SELLERS ARE HAPPY TO RESERVE YOUR HORSE FOR YOU SO PLEASE ASK
CLICK ON PHOTOS TO GO TO HORSES OWN FOR SALE PAGE

Collinson 52in Early Original Paintwork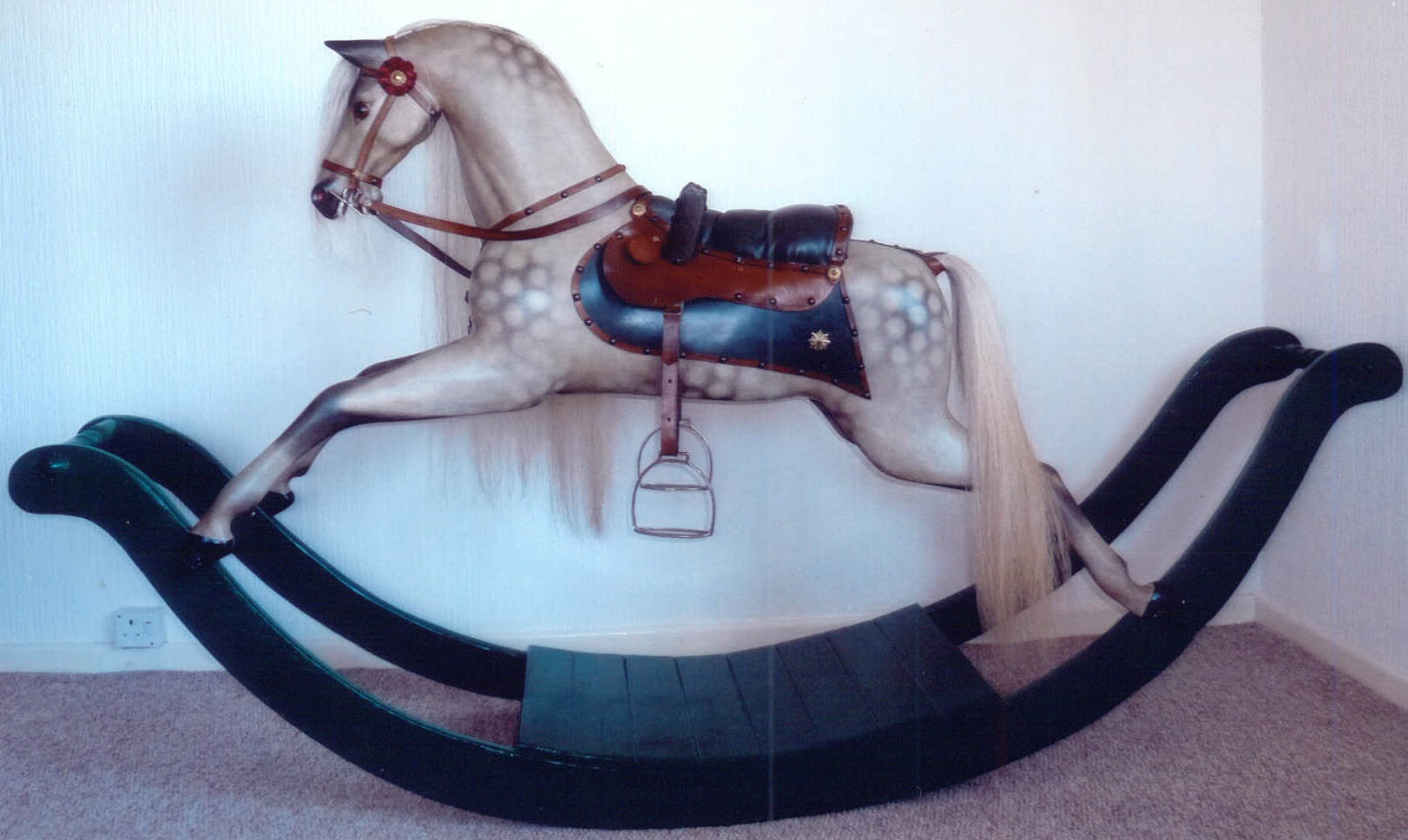 Antique Bow Rocker Restored (TV star)

1920s German Plush Bow/Platform Rocker

Tom Newstead Hand Carved Art Horse

BACKHOUSE hand crafted rocking horse

Lines with a Tom Cobley Restoration

Lines 1925 Bow Rocker (63in long)

Shotgun Paddy Trevor Wiffen Bow Rocker

Haddon Large 50in JED - deluxe version

Stevenson Bow with End Seats Rare

Lines Sportiboy Joey Warhorse 44in

Collinson

Collinson

Vintage, Antique and Rare Traditional Rocking horses for sale: Ayres, (exra carved, plaincarved), Leach, Lines, Baby Carriages, Norton & Barker, Stevenson Bros of Kent, Legends, Haddon and many more original antiques and collectible rocking horses and child friendly rocking horses waiting to be ridden.

Its very hard not to love Rocking Horses and when you get one you are on your way to being in Rocking Horse Heaven. Usually after getting your first rocking horse you find it is hard not to add more and its a very addictive hobby as any rocking horse collector will tell you.
I have been a rocking horse collector for many years and every now and again I tend to have some horses in my 'heaven' that I need to move on to a new home to make room for another lovely horse.

I am going to be listing these horses for sale on this website.If you have a rocking horse for sale and would like to advertise or even part exchange (this can sometimes be arranged enabling rocking horse owners to enhance their collection)

please call 01485 544596.

These toys have a place in most peoples hearts and I am sure even if you do not wish to purchase you will enjoy seeing the photos of these lovely toys of yesteryear.
Enjoy the site and enquiries and viewings are also welcome.
Please keep visiting and ad us to your favourites. Thank you very much.


For more information of viewing of any of my horses please call 01485 544596
or email maggi5@mac.com
I am situated in the lovely county of Norfolk adjacent to the lovely Royal Sandringham Estate so if you would like a trip out it is very enjoyable.